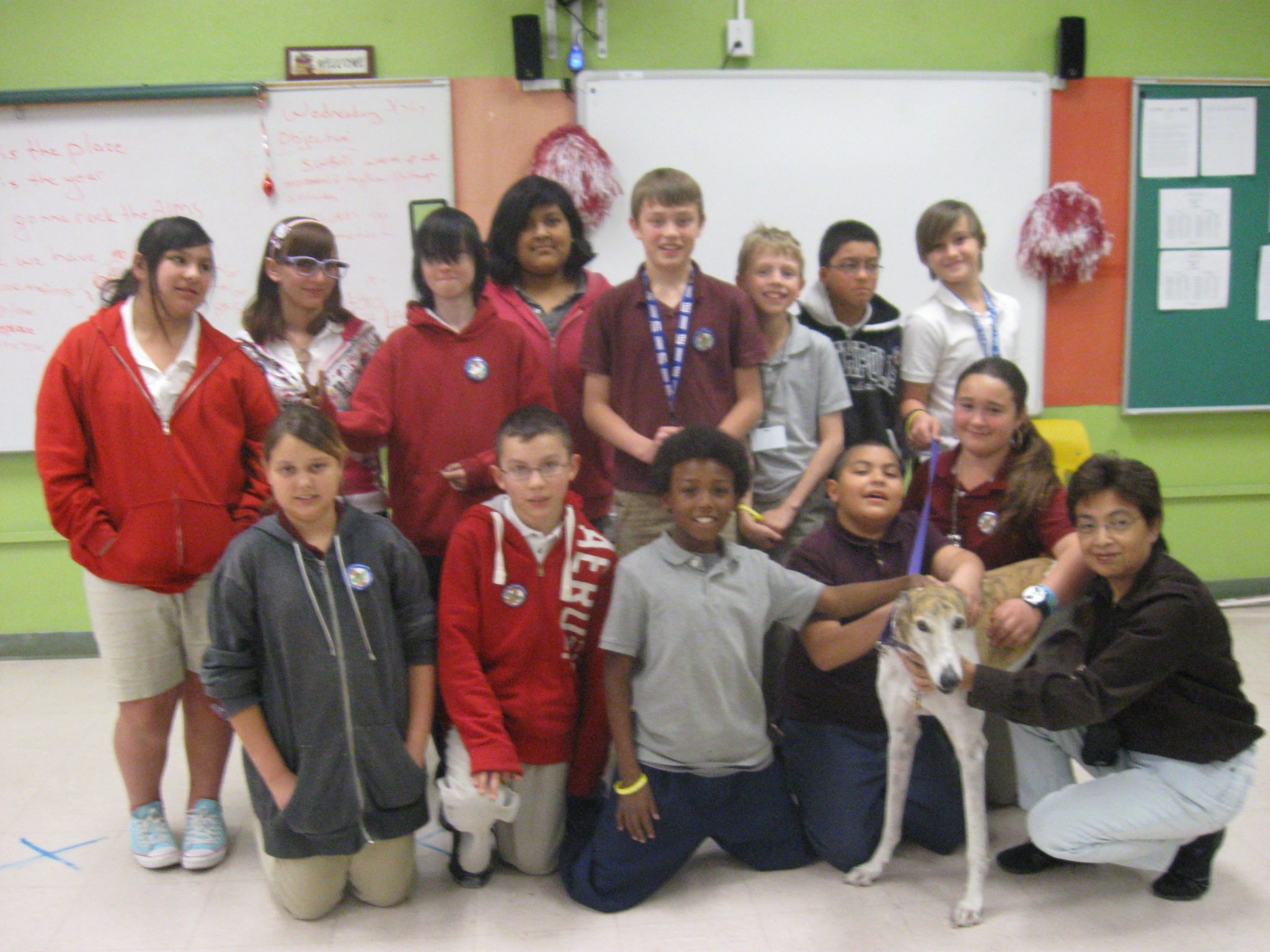 Jett Greyhound here…
Life is good. I went to middle school last week. One teacher we know teaches a class on kindness to dogs, dog racing, and adopting a greyhound. The teacher Ms. V. also showed the classes two youtube videos. I have good experience and I am the star of the show.
As part of the lesson, the kids have to ask thoughtful questions about dog racing and about greyhounds. Some of the questions were:
"Why does the government allow animal cruelty?"
"Does Jett have many friends?" (Yes – Donut, Saffron, Anabel, Carter, Opa, Riley)
"How often does Jett get a bath?"
"How fast do greyhounds run?"
My human Karyn talks to the class and as she does I wander around the room licking the kids or rest on my bed. These kids were the best. This time I saw something in the corner that I was curious about. There was a dog that looked just like me looking at me but I couldn't find him.
Karyn told the class that I only get 2 or 3 baths a year and generally don't have the dog smell that other breeds do but that my feet smell like Fritos. So of course all the kids wanted to smell the bottom of my paws. They also spent a lot of time looking at my tattoos.
The kids then wrote notes to me and Karyn read them to me when we came home. Here are some of the notes:
"Jett, you are big and awesome."
"Jett, I will never go to a race track."
"Jett, I am glad that you are safe."
"Thank you for bringing that cute Jett."
"When I grow up, I'm going to get a cute dog like Jett."
So there you have it. I can tell you I was pooped but am always happy to go and help the class learn about greyhounds.
I'm a good boy. Remember…What you see, is what you Jett