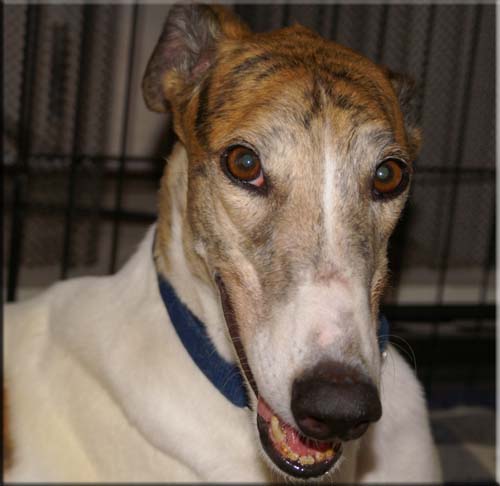 Hello Tucson and the World
I am Jett Greyhound. I am a retired racing greyhound. I use to race around the dog track here in Tucson.
My person has a lot to say about that and none of it is good. She uses cuss words that I am not allowed to repeat. I am a good boy and a gentleman so I won't repeat them.
Anyway, she refuses to talk about my racing name, how many races I ran which she says the industry data is not up to date so it's a moot point, whatever that is.
My person Karyn says the only thing that matters is — I am here now in a home with three soft dog beds.
Wow!
I heard through the greyt vine that I have big paws to fill as Karyn recently lost her almost 13 year old greyhound Lily, aka Drama Queen.  My person said she had a big hole in her heart and I was here to fill it.
A hole in the heart sounds painful.
I can fill the hole and make Karyn feel better.
We're going to have a great life together. You'll just have to wait and see…
Today I went to the Save More Animals adopt-a-thon at a nice hotel in a carpeted ballroom. I got microchipped. Karyn almost fainted when she saw the vet insert a long needle into me. As for me, Jett Greyhound, I didn't feel a thing. My god-mama Cynthia made me feel so brave.
That was my debut out and I met a lot of people, kids, and lots of dogs, like more greyhounds and found out I was really popular with the Golden Retrievers. I stuck my needle nose into their inner circle.
That's me in the photo. Aren't I a handsome boy?
BFN
Posted by…What you see is what you JETT…Greyhound