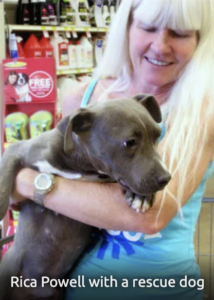 December bracelet sales benefit Smiling Dog Rescue. This group began in January 2007 when Rica Powell was asked to help a smiling pit bull destined for euthanasia at a kill shelter in Southern Arizona. Being made aware of this one endangered innocent life led to a greater awareness of a sad reality – the enormous number of pit bull and pit bull-type dogs who too often end their lives in high kill shelters – merely because of the way they look. Smiling Dog Rescue has since rehabilitated and re-homed nearly 6000 unwanted, stray and abandoned pit bulls, bully type dogs, and many other types of dogs from all over southern Arizona. Smiling Dog Rescue is committed to reducing the number of homeless, relinquished, abandoned and needlessly destroyed dogs. They strive to save as many adoptable dogs as possible.

As strong advocates of spay & neuter, Smiling Dog Rescue Arizona and Florida locations have created a free spay and neuter program called Snip-A-Pit for low income owners of pit bull and pit bull mix dogs in Pima County, AZ and Brevard County, FL. They are convinced that responsible bully dog ownership is the key to changing perceptions of this wonderful breed, and that it is vital to eliminate backyard breeding to restore the esteemed reputation that the American Pit Bull Terrier once enjoyed.
You can help Smiling Dog Rescue save more deserving pets by purchasing one-of-a-kind, handcrafted Beading Divas bracelets.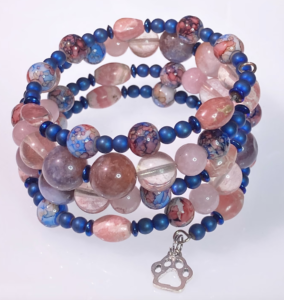 Cost per bracelet is $20, with no tax. The bracelets make great gifts any time of year!  The best selection is online via Etsy but in Tucson you can also buy bracelets at Fuchsia Spa in La Encantada Shopping Center, and Silver Sea Jewelry, in the historic 4th Avenue Shopping District. Silver Sea is open Tuesday-Sunday from noon-6pm (masks and social distancing required.)