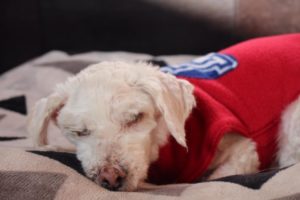 For the New Year, Beading Divas kicks off with SAFE (Saving Animals from Euthanasia), a Tucson-based rescue committed to working with the public and shelters to discover and reduce the real causes of companion animal euthanasia.
Dom is a male poodle mix about 8 years old. Dom was brought to Pima Animal Care Center (PACC). He was so matted they had to sedate him to shave him. He had sores and raw skin after getting all the mats removed. PACC immediately call Saving Animals from Euthanasia to come get him. One look at this little poodle and he was scheduled for a veterinary workup. After the physical exam and blood work here is the diagnosis:
Blind in both eyes, so bad eyes need to be removed;
Bronchitis, antibiotics given;
Needs dental and a couple of teeth extracted;
Tested positive for valley fever;
Needs to be neutered.
With all that going on Dom is very happy to be in a warm and loving home; he is learning to love being petted, snuggling with his person and getting the medical care he deserves. He still has challenges like running into walls and furniture but is learning to get around. He has gained almost 2 pounds in foster care. Your donations will help pay for all his medical care.
BUY BRACELETS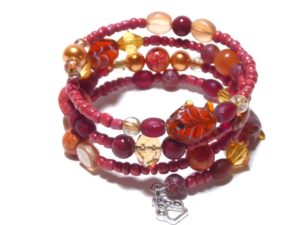 Buy handcrafted beaded bracelets made with donated beads and a dangling paw charm. Bracelets cost $20/no tax. Bracelets can be purchased on Etsy and shipped worldwide. You can also buy bracelets locally in Tucson at:
–-Silver Sea Jewelry & Gifts, 330 N. 4th Avenue, 520-624-9954, meter parking until 5 PM M-F, free parking weekends
–-Clues Unlimited Mystery Book Store, 3146 E. Fort. Lowell Road, 520-326-8533, free parking
—At SAFE's adoption events every Saturday from 11 am to 2 pm at PETCO, 5405 E. Broadway Blvd and PETCO, located at First Ave / Wetmore, during January.