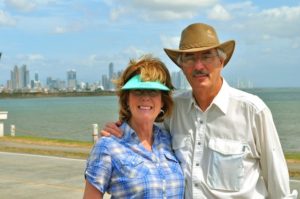 For December Beading Divas Bracelets chose Equine Voices Rescue and Sanctuary as their fundraising partner. This partnership wouldn't be complete without remembering Jerry Tucker who played a vital role in the growth of Equine Voices as well as being a greyhound adopter and supporter along with his wife Kathy.
Around 15 years ago Jerry and Kathy were looking for property in Amado when they happened on Karen Pomroy who had just started a horse rescue with four horses so they bought five acres of property adjacent to hers. The initial intent was for the Tuckers to start a Golden Greys Sanctuary for unwanted senior greyhounds but they soon learned there was no need as adopters treasured senior greys.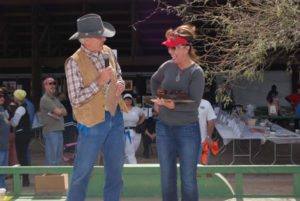 So, the Tuckers bought a double-wide to hang out in when they didn't want to drive back to Tucson at night. The double wide also did double duty as a visitor center. "Since Jerry grew up around horses, he felt very much at home at Equine Voices with its sprawling land," said Kathy. "And I loved sitting outside taking in the incredible views of Elephant Head and the Santa Rita Mountains."
"Jerry was chairman of the board for 10 years," said Karen Pomroy, board president/founder. "He was my mentor, a trusted friend and always a strong advocate for our cause – for the horses. During his time as chairman he built Freedom Park and assisted with yearly fundraisers. Once, we had a large painting donated; it was a scary, colorful mask. Jerry hated that painting. My friend Jennifer and I took the painting and put it under the covers of their bed in the double wide. It was hysterical. I think the painting disappeared after that."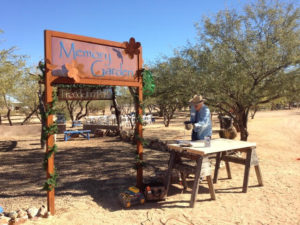 When Jerry retired as chairman, he and Kathy generously donated their five acres with the visitor center to Equine Voices.
Please watch the video created by Equine Voices.
Jerry had a zest for life and a heart filled with compassion. He and Kathy were active volunteers and supported Arizona Greyhound Rescue and Southern Arizona Greyhound Adoption, Tucson Wildlife Center, Humane Society of Southern Arizona and the Humane Society of the White Mountains.
The Beading Divas remember him fondly and thank Kathy for sharing these photos with us.
If you would like to buy beautiful one-of-a-kind beaded bracelets where sales benefit Equine Voices during December, click here. Or to make a direct donation to Equine Voices, click here.
Written by Karyn Zoldan