Many of you know that I – Karyn Zoldan – have been the chairperson of Beading Divas Bracelets for more than a decade (2008-2019). From a near tragedy spawned a grassroots organization, that through our dazzling one-of-a-kind, hand-crafted beaded bracelets, has helped hundreds of dogs, cats, greyhounds, horses, wildlife, farm animals, pigs, donkeys, spay/neuter, and advocacy.
It's been a labor of love; a role where I could make up the rules, lead, delegate, create, make contacts and great friends and build sisterhood.
But…now I'm stepping down as I need more chill time and less responsibility.
I'm passing the torch to Angy Shearer, who was an original founder but then left to pursue mega job responsibilities but now has returned. She's a great organizer, understands our complex workings and has a willingness to do what needs to be done.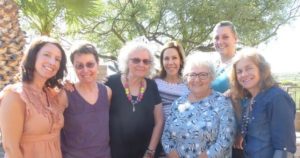 I'll still be here but not in a Board capacity. I will continue to edit and write the blog and occasional Facebook posts and — of course — come to the bracelet making bees.
Today the Board feted me with a gracious and delicious soiree. I couldn't ask for a better send-off. Thank you, Divas!
Pictured: Angy (chair), Cynthia (treasurer/photographer), Karyn, Gail (fulfillment/bee planner), Mary Jo (fulfillment/asst. merchandiser), Lizzie (tall/vice chair/merchandiser), Loren (photographer)