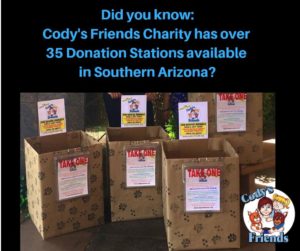 Think of yourself as a homeless veteran. The only family you have is your dog, Buddy. You go to the soup kitchen where they give you a sandwich and you crumble it up and share it with Buddy.
The truth is: People living in poverty will go hungry before they let their pet suffer.
Cody's Friends has become a lifesaver for pets living in poverty and homeless animals. The organization has 15 volunteers and no paid administrators.
Cody's Friends has the Community Room program. Pet food and supplies in the Community Room come from 35 "Cody's Donation Stations" throughout the Tucson community. More than 75 rescue groups and 35 human service agencies such as Meals on Wheels, the Community Food Banks, the Tucson Fire Department, the Gospel Rescue Mission, Sister Jose's Women Center, Youth on Their Own, plus the Humane Society of Southern Arizona, PACC and the Hermitage Cat Shelter come to Cody's Friends for pet food and supplies.
Unfortunately, a major retailer who donated pet food to Cody's Community Room cut their donations nationwide so pet food donations dropped by more than 85%.  
You can help Cody's with pet food by making a monetary donation or check the locations of Donation Stations near you. Cody's always needs more volunteers. Interested?  Check out their website for more info or call 520-419-0450.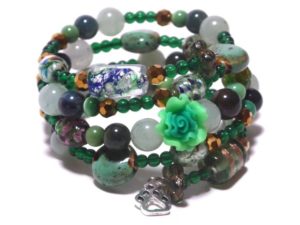 BUY BRACELETS – During January, when you buy a bracelet or two, 90% or $18 will be donated the Cody's Friends and you will be the proud owner of a beautiful one-of-a-kind beaded bracelet with dangling paw charm. Win-win.