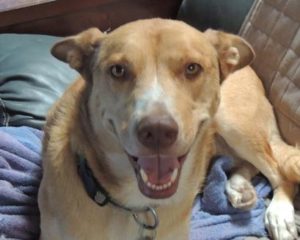 Max is a 4 year old boy who could be a yellow lab mixed with Pharaoh Hound. He came to Cochise Canine Rescue as a pup and had Valley Fever. He was treated and has been retested a few times and clear of the disease.
Max is somewhat dog-selective and would be best in a home where he is an only dog and there is someone home all or most of the time, as he craves love and attention. As a part sight-hound, he can run far and fast if he gets out — good high fencing is necessary.'
But like a sight-hound Max is a couch potato. He likes to chase squirrels but prefers to be indoors and is generally laid back. Max is partially dog-door trained. He will need to be worked with on a harness as he is not used to being walked in town.
Max is spoiled and he's looking for someone to keep spoiling him. He is up to date on shots, microchipped and neutered.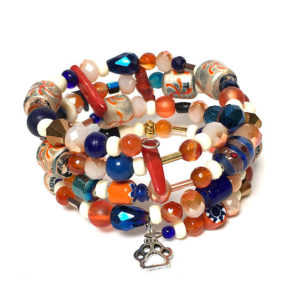 BUY BRACELETS
You can help Cochise Canine Rescue by buying a one-of-a-kind bracelet or two. Each bracelet is handcrafted, made with donated beads and love by volunteers, i.e. creative women. All bracelets come with a dangling paw charm and cost $20/no tax. Postage is based on destination. The rescue receives 90% of the bracelet sale or $18.
You can also buy bracelets in Tucson at Silver Sea Jewelry, 330 N. 4th Avenue in the Historic Fourth Avenue merchant district or Clues Unlimited Mystery Bookstore across from Winterhaven neighborhood.
The bracelet fundraiser for CCR ends by March 1. If you see a bracelet you like, buy it.