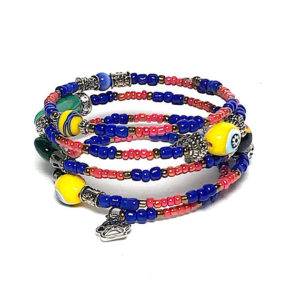 For the month of November, Beading Divas to the Rescue is fundraising for Cherished Tails Senior Sanctuary in Marana. And speaking of seniors — November is National Adopt a Senior Pet Month so you may as well adopt a bracelet or three to help a senior dog or cat.
This hand-crafted one-of-a-kind beaded bracelet is called Phantom. There's nothing woo-woo about the cost — $20/no tax. It's available online via Etsy. Shipping cost not included and postage is based on destination.
Cherished Tails receives $18 for every bracelet sold online.
Remember these bracelets are one-of-a-kind and if you snooze you lose or so they say. All the bracelets come with a dangling paw charm to commemorate our mission.
From the Feedback File: "Beautiful bracelet for a beautiful cause. Thank you!" ~ Frau D.