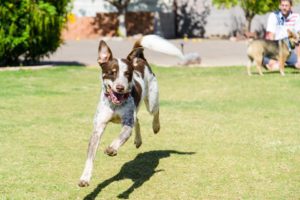 For September, Beading Divas to the Rescue is excited to be fundraising for Arizona Cattle Dog Rescue. Arizona Cattle Dog Rescue is a non-profit 501(c)(3) organization whose mission is to rescue, rehabilitate and ultimately re-home abandoned, stray and neglected Australian Cattle Dogs throughout the state of Arizona. Whenever possible, they also assist ACDs who because of extenuating circumstances are unable to remain in their homes with their owners.
This group was chosen for a very special reason which will be revealed here on September 4th but for now you can learn about their good deeds and paramount dedication. Volunteers are in Southern Arizona, Phoenix and Flagstaff.
Meet Baby Ruth
Baby Ruth is almost three years old. She had a rough start before her time with Arizona Cattle Dog Rescue. She lost her right eye to glaucoma and suffered an injury to her tongue. Neither condition has dampened her spirit! She loves all people and all dogs, young and old, big and small. Her goofy and silly personality keeps her foster home laughing.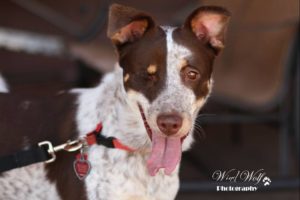 Her left eye is cloudy due to a birth defect, requires long-term care (daily drops and semi-annual vet checks for pressure) and may, says the vet, be lost in 5-7 years.
Arizona Cattle Dog Rescue knows the adopter/s who can commit to her care will be rewarded with boundless love and faithful companionship.
Follow AZ Cattle Dog Rescue on Facebook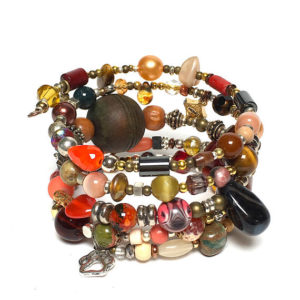 BUY BRACELETS

You can support ACDR by making a direct donation or buying a one-of-a-kind bracelet or two made with donated beads. Bracelets cost $20 (no tax) and $18 of every bracelet sale benefits the dogs. Each bracelet comes with a dangling paw charm. Shipping cost is based on destination; we ship worldwide.
In Tucson, you can buy bracelets at:
.–-Silver Sea Jewelry & Gifts, 330 N. 4th Avenue, 520-624-9954, meter parking until 5 PM M-F, free parking weekends
–-Clues Unlimited Mystery Book Store, 3146 E. Fort. Lowell Road, 520-326-8533 (closed Mon-Tues)
Arizona Cattle Dog Rescue has a Meet & Greet at PETCO on River/Craycroft on September 16 from 10 am to noon.  You can buy bracelets for a $20 donation.