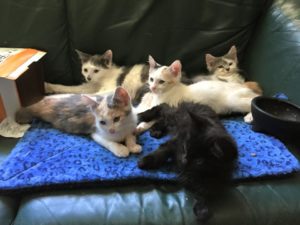 Beading Divas is excited to be fundraising for Cat Ranch Rescue in Robbinsville, NC.
Late one hot summer day the people of Cat Ranch Rescue went to the local dumpsters with a load of trash. Troy (the husband) went to the back of the truck and thought he heard a faint meow. After looking around we finally realized the meow was coming from inside the dumpsters. After moving several bags of trash, we found several kittens huddled together, one a little larger than the others, all extremely scared.
Not only had they been thrown away like garbage but were coated in sticky slimy nasty goo from the bags of garbage. One by one the kittens were retrieved and all but one, the largest one, was caught. A total of 5 kittens were taken to Cat Ranch Rescue to be cleaned up and cared for.
A humane trap was set up as quickly as we could return with the hopes of catching the remaining kitten. While Troy kept watch on the trap, Marianne started the task of washing off the horrible goo and removing fleas from the starving kittens.
The kittens were so dejected and pitiful they wouldn't even hold their heads up. It was like they had given up.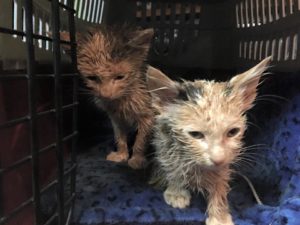 Once the ordeal of the cleanup was finished, the kittens were warmed up and given much needed kitty food which they gobbled up. They looked to be about 4 to 5 months old.
Refusing to go in the trap, Troy finally managed to hem up the last kitty and put in a carrier. He was so scared. He was the big brother who took care of the 5 girls. We named him Rudy. And the girls were named Idgie, Misty Midnight, Mia, Lulu and Tansy.
Within just a few hours the kittens were unrecognizable. They purred and played and were totally different kittens. They grew up to be beautiful princesses and we never let them forget they are NOT garbage.
Later that year Rudy and his sister Idgie had to have all teeth removed due to stomatitis.  All were spayed and neutered /wormed and given appropriate vaccines.
Follow Cat Ranch Rescue on Facebook.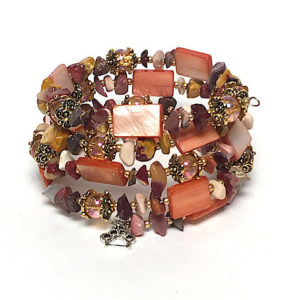 BUY BRACELETS
Buy one-of-a-kind hand-crafted beaded bracelets made with donated beads . Each bracelet comes with a dangling paw charm. Bracelets cost $20/each (no tax) and $18 of every bracelet sale benefits Cat Ranch Rescue during the month of June. Shipping cost is based on destination; we ship worldwide.
In Tucson, you can buy bracelets at:
.–-Silver Sea Jewelry & Gifts, 330 N. 4th Avenue, 624-9954, meter parking until 5 PM M-F, free parking weekends
–-Clues Unlimited Mystery Book Store, 3146 E. Fort. Lowell Road, 326-8533