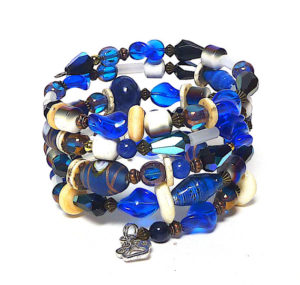 This bracelet is called "Blue Lagoon." Blue is the color of trust, responsibility, honesty and loyalty. It is sincere, reserved and quiet, and doesn't like to make a fuss or draw attention. It hates confrontation, and likes to do things in its own way.
All bracelets are hand-crafted, one-of-a-kind and come with a dangling paw charm to commemorate our mission of helping animals.. Each bracelet costs $20 (no tax). Shipping cost is based on destination; we ship worldwide.
For March, bracelet sales benefit Lil Bit of Love Dog Rescue specializes in rescuing dogs with medical needs.  LBOL helps all ages and breeds, and has treated conditions including, but not limited to, mange, hydrocephalus, fractures, puppy strangles, paralysis, ringworm, diabetes, abuse, tumors, and parvo.
From the Online Etsy Bracelet Feedback File: "This bracelet is gorgeous!!! Will definitely be buying more and bonus points–$ goes for an animal charity!! It's a definite win-win!!! Thank you Divas!! :)." ~Mia