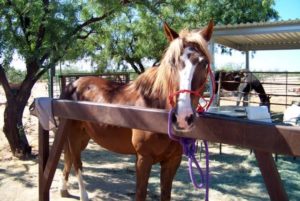 For December, Beading Divas is excited to be fundraising for Escalante Springs Equine Rescue in Marana.
Escalante Springs Rescue is a 501(c)3 charity dedicated to the rescue, rehabilitation and re-homing of severely abused or injured equines and provides EAGALA (Equine Assisted Growth and Learning Association) equine therapy to many different groups, including but not limited to, youth at risk and veterans. They also host youth groups for educational, fun days with the horses.
Meet Brownie — a 14-year-old quarter horse gelding who came to Escalante a year ago. He was referred by Jackpot Veterinary. At that time, Brownie had laminitis and a squamous cell carcinoma of his left eye.  His previous owner asked the veterinarian to euthanize him as the owner did not feel able to afford the necessary treatment. Shortly after his arrival the excellent Jackpot vets performed surgery to remove the eye tumor. The operation was observed by students of Pima Medical Institute's large animal veterinary technician class, a valuable learning/teaching experience.
Brownie's laminitis has resolved with rest, nutrition and corrective hoof trimming by our farrier, Chad Lunderville.  Since then Brownie has adjusted well to our herd. Although we have not been riding him, he was a working horse prior to coming to Escalante and has excellent ground manners.
He is available for adoption and will continue to work with him as long as he remains at Escalante.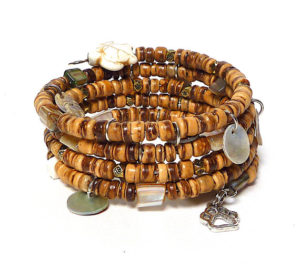 Tis' the season to put some sparkle on your wrist. Beading Divas bracelets are one-of-a-kind, made with donated beads and come with a dangling paw charm. One size fits most. All bracelets cost $20 and 90% of every sale ($18) goes to the horses. You can buy bracelets around Tucson at:
–-Silver Sea Jewelry & Gifts, 330 N. 4th Avenue, 624-9954, meter parking until 5 PM M-F, free parking weekends
–-Clues Unlimited Mystery Book Store, 3146 E. Fort. Lowell Road, 326-8533
–-A K Jensen Apparel, (St. Philips Plaza), 4340 N. Campbell Ave., Suite 72, 529-2775
We have a large bracelet selection online too and ship worldwide.