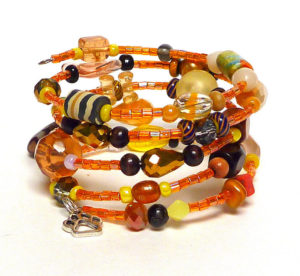 This bracelet called "Sunshine" reminds us of a warm autumn day. If you like falling leaves and spicy pumpkin pie, then this shimmering fundraising Beading Divas bracelet is looking for a forever home on your wrist.
All bracelets are hand-crafted, one-of-a-kind and come with a dangling paw charm to commemorate our mission of helping animals. Each bracelet costs $20 (no tax). Shipping cost is based on destination.
For the month of October, bracelet sales benefit the no-kill PAWSitively Cats Shelter and Sanctuary in Tucson. Check out their Wish List to see if there are more ways to support them.
From the Online Etsy Bracelet Feedback File: "Super happy w purchase! Beautiful bling and for a great cause. TYVM for helping the animals. =^..^="  (Tina)