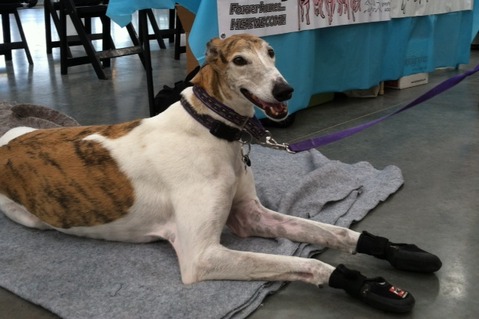 Written by Jett Greyhound
Hi Fans
It's been like a whirlwind of activity around here. Never, and I mean never, a dull moment.
April was the Greyhound Blitz for National Adopt a Greyhound Month and we have been blitzing like crazy.
I went to the Farmers Market at the Loft Cinema and met every man, woman, child, and dog who came that day. Some guy sang a song about me — When you're a JETT, you're a JETT all the way from your first cigarette to your last dying day. He was funny. He wanted to take me home but my human didn't like that idea.
The following Saturday I went to Pima Air & Space Museum. Wow! What a great place. Big. Friendly. I met so many people, some from Japan and Switzerland, and Austria plus the good old USA. I was quite popular.
Then I went to the Rainbow Remembrance. That was a sad event as people stood up and remembered the greyhounds that went to the Rainbow Bridge. My human talked about Hush Puppie, Romance, and Atomic Charm — not dogs that I ever met but dogs that never got to be a beloved pet like I am.
Then I went to a Meet & Greet at Royal Kia of Tucson and met lots of new people and kissed some babies. Maybe I should be a politician?
I guess the Blitz is over. Big sigh.
Then we had lots of dogs stay with us. We had Dylan and Christopher (available) and Piper stay here for respite fostering. Piper got adopted by a nice family who came to pick him up; they had his littermate. Saffron stays here sometimes; she's a nice old gal. Donut is here now; she's an alpha girl who hogs the couch. And then there's Carter who I know my human just adores. His people go away a lot and he spends a fair amount of time with us. I don't mind. He is Girlfriend's body guard but in a nice way.
So there you have it. Busy. Busy. Busy. Plus I go to middle school again later in May. I can't wait!
What you see is what you Jett…
P.S. I'm wearing Thera-Paws because I have paw problems but hopefully they are getting better. Paws crossed…so they say.