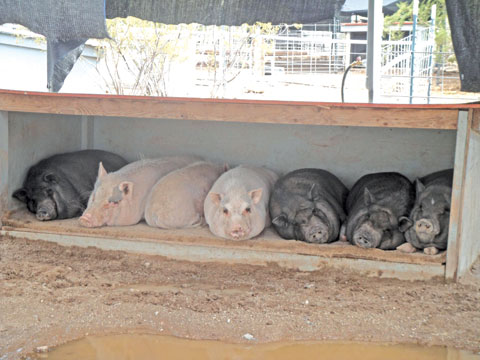 10 facts about the Ironwood Pig Sanctuary in Tucson:
May 2012 was their 11th anniversary.

Pigs like to relax in wading pools.

There are almost 600 pigs on the premises.

Pigs have names like King Charles, Arnold, Penelope, Mai Ly, Pop Tart, Tucker…to name a few.

Fig Newtons (not individually wrapped) are on their wish list.

You can remember the Sanctuary in your will.

You can make a monthly donation for as little as $5/month to the sky is the limit.

Ironwood Pig Sanctuary is accredited by the American Sanctuary Association.

You can sponsor a special pig for $30/month and receive updates and photos.

During June, you can buy one-of-a-kind beaded bracelets for $20 and all proceeds benefit the pigs.
You can buy bracelets in Tucson at:
-Silver Sea Jewelry & Gifts, 330 N. 4th Avenue, 624-9954 (accepts cash/checks for bracelets)
-Clues Unlimited Mystery Book Store, 3146 E. Fort. Lowell Road (SE corner Country Club), 326-8533 (closed Sun/Mon – accepts credit cards/cash/checks for bracelets)
-Sissy's Pet Grooming Salon, 7350 N. La Cholla Blvd (in Albertsons Shopping Center), 229-9898 – (accepts cash/checks for bracelets)
At the above locations, make checks payable to Ironwood Pig Sanctuary ($20).
You can also buy bracelets online (add $5.50 S&H) via Etsy.
Read more about the Ironwood Pig Sanctuary, a woman in Tucson who has pot belly pigs, and five famous pigs who have made porcine history.
Our condolences to Chris Burke of Clues Unlimited Bookstore. Her 12 year old pet pig — Sophie — died yesterday from complications.