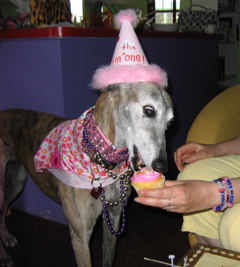 BFFs
Yo. It's been awhile.
Mama Karyn hogs the computer.
I'm sure you're dying to know what The Lily has been up to.
I have been bad to the bone.
I chewed Mama Karyn's favorite pair of faux suede flats. But I did her a favor because I chewed each shoe in the same place so now she still has a matching set. She cried.
Then I had a wonderful birthday party. Mama Karyn didn't celebrate my 12th birthday but instead she celebrated my 12 1/2 birthday. All the Beading Divas came and then Edie and Kate. I got lots of cool presents…most of them pink. I also got some bling.
A girl can never have too much bling.
I had my very own cupcake too!
Then I got sick a few days later. I had a seizure of some kind. My back legs failed. My eyes spun around in my head. I pooped when my back legs splayed…how embarrassing.  And I started to shake. It was frightening.
Fortunately, Mama Karyn was right there to save me.
Then I drank a lot of water.
Karyn took me to the dog doctor and I found out that my liver values were off the charts. Now I take some different medicines and supplements and a month later my liver values were almost back to normal.
And so it goes.
Life is good and together we cherish each and every day.
I noticed Karyn has a new purple purse and some new shoes. I'm sure I'll be having my way with them soon.
Love you, mean it.
The Lily, a.k.a. Drama Queen
P.S. Here's an article about my birthday party.  It's called Girls & Greyhounds Just Want to Have Fun.