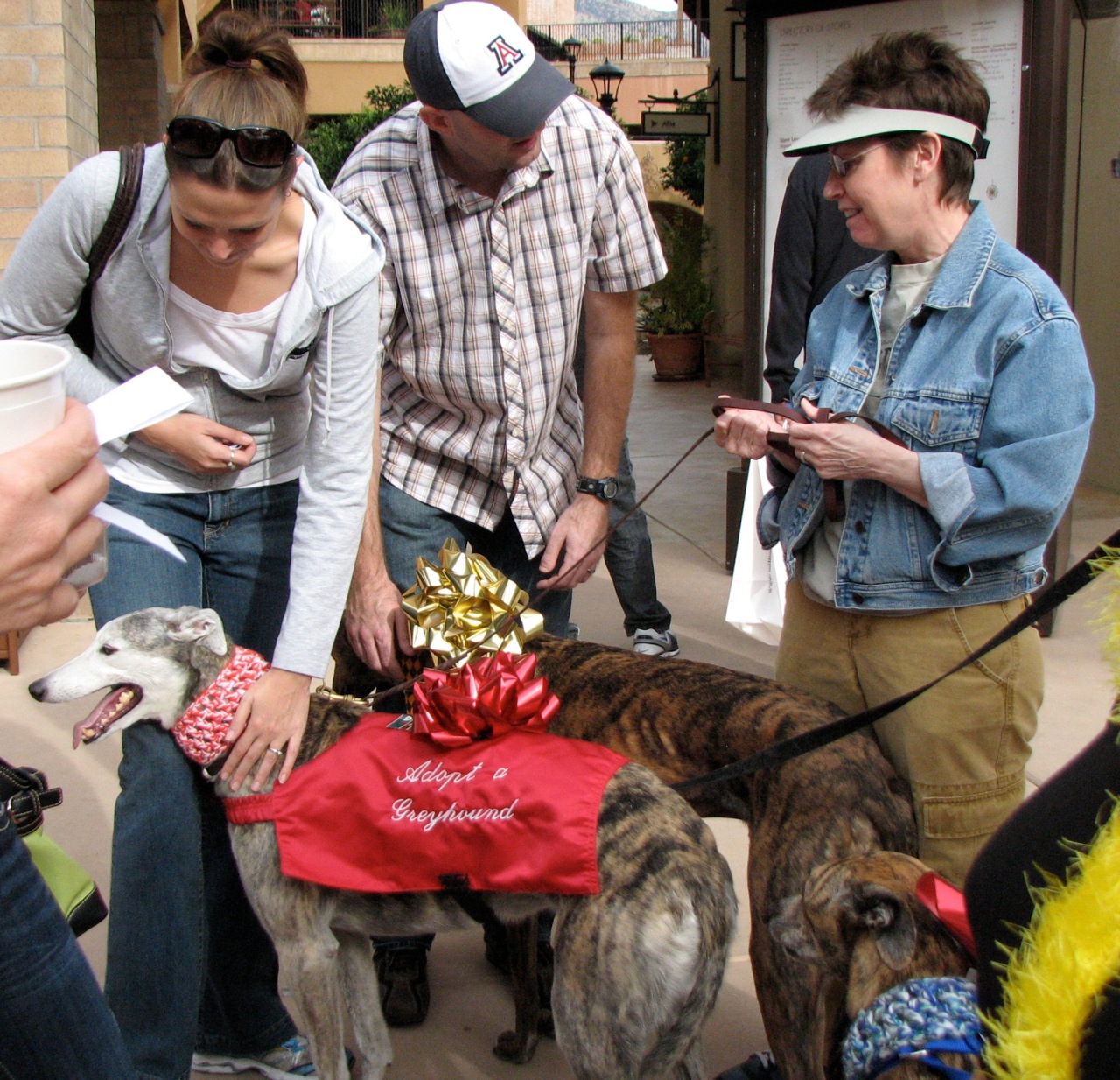 Written by Diva Glenda Taylor
A video showing rescued greyhounds mingling with Christmas shoppers on Chicago streets, wearing thick doggie coats adorned with enormous red bows, was recently circulated and prompted an email from AGR adopter Cynthia David. "Hey, we can do that." Marketing whiz Karyn Zoldan suggested La Encantada shopping center as a suitable venue, and she was 'right on.'
On the afternoon of December 20, 2009, at 1:30 p.m., five Arizona Greyhound Rescue adopters met at La Encantada and took their hounds for a stroll: Marlene Fischer with Alyse, Mary Freeman and Diana Hansen with service pooch Buddy, Cynthia David accompanied by Harmony, and Mr. Beams took his caretaker Glenda Taylor.
Large Christmas bows were attached to the dogs' collars and, while most stayed put, one consistently wobbled off to the side: Mr. Beams.
But who cares.
The shoppers and their children were very receptive and delighted to pet the greyhounds and the dogs lapped up the affection.
The AGR volunteers had an opportunity to share with the holiday shoppers the news that the Phoenix race track was closing, and the need for adoptions, fosters, or donations to rescue groups in Tucson that will be taking in some of the Phoenix dogs.
Cynthia created a brief handout that included the websites for AGR and Greyhound Adoption League for people to donate to help with the cost of caring for the displaced Phoenix dogs.
We'd planned on staying for an hour, but we were still 'at it' come 3:30 pm. We met some fabulous dog lovers and passed out a load of handouts.
What a glorious day.
(The photo demonstrates how greyhounds make the best ambassadogs. In the photo Harmony is in red, Mr. Beams wears the gold bow, and Alyse wears the blue collar. Diva Cynthia David talks to admirers.)
Photo taken by Diana Hansen