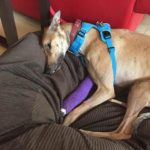 KC and Rocky are greyhound puppies who came to SA Greys with serious leg injuries that required expensive corrective treatments. Injuries to leg structures often can't be fully addressed until their bone growth is complete. SA Greys worked with our vet, Briarcrest Veterinary Clinic, to develop long-term treatment plans and placed them with experienced adopters who are able to care for them after their eventual surgeries.
KC came to us in 2017 at the age of 3 months. He was missing a toe on his front left foot and his wrist was very weak and badly bent. We learned that, as a newborn, he had wandered into a neighboring brood mom's area and was bitten. The loss of his toe at that tender age made him favor the leg and led to his painful wrist deformity. When he reached his first birthday, KC persevered through surgery to insert a plate and a traumatic recovery period in a cast. To see him today, you'd never know he suffered even a moment. He is the happiest, most fun-loving hound you could imagine. Life with mom, dad, sister greyhound, and two horses couldn't be better!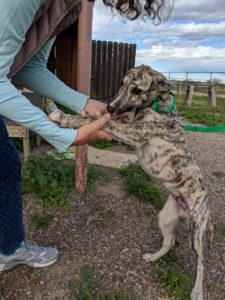 Rocky arrived recently, also at 3 months of age. He gets along amazingly well with a badly twisted front leg, the result of a broken bone at birth that went untreated. Despite the deformity, he is active and in no apparent pain. When he finishes growing, he will undergo surgery to straighten the leg and allow him more normal movement. His foster parents fell in love with this happy scamp and immediately adopted him. SA Greys will continue to cover vet care related to the leg until Rocky completes treatment.
Handcrafted bracelets are one-of-a-kind made with donated beads and a dangling paw charm. Buy bracelets at:
—Briarcrest Veterinary Care Center (during May only) – 7313 E. Tanque Verde Road
–-Silver Sea Jewelry & Gifts, 330 N. 4th Avenue, 520-624-9954, meter parking until 5 PM M-F, free parking weekends
–-Clues Unlimited Mystery Book Store, 3146 E. Fort. Lowell Road, 520-326-8533 (closed Mon-Tues)
— Nadine's Desert Fashions, 11931 N. 1st Ave., suite 141, Oro Valley, 520-797-4200
Buy bracelets online; they are shipped worldwide via Etsy (large selection); postage is based on destination.