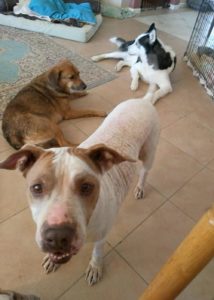 Jenny may just be the quintessential Hard Luck Hound. In September 2016, she ended up on the euthanasia list at the Pinal County Shelter because of her severe medical condition. PCACC doesn't have the money to keep a vet on staff. Jenny had severe skin allergies (hair loss and scabs all over her body), was obese, and had a red, weepy mass protruding through the skin on her abdomen. Shelter staff listed her at about 13-years of age.
On October 10, 2016, Jenny seemed to get her happy ending when she was saved from euthanasia by an adopter. But it turned out to only be a reprieve.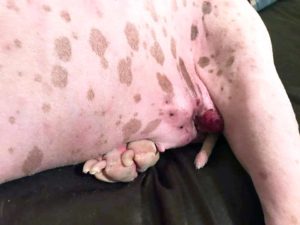 Jenny returned to the shelter in August 2017. The shelter contacted her adopter and found out she had moved and left Jenny with her son-in-law. Neither of them wanted her back. She was still suffering from terrible skin allergies and her mass was getting bigger. Jenny was placed on the euthanasia list, again.
If Jenny hadn't won the hearts of many at the shelter, she might not have gotten a chance at rescue at all. Despite everything, this sweetheart never stopped smiling and wagging and loving on anyone who would pay attention to her.
Buy one of a kind bracelets to benefit Hard Luck Hounds
Shortly before deadline on September 15, Hard Luck Hounds decided to try and give this girl a few happy months and some love and dignity. It wasn't a practical decision for the rescue to pull an old, overweight dog who likely had cancer and very little chance at adoption. But any pup this happy and resilient deserved so much more than to die alone in a shelter.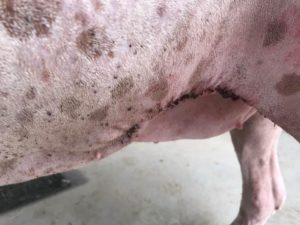 Jenny went to live with a foster in Phoenix but came to Tucson in November while her foster mom was out of town for a month. Luckily, she had a fantastic temporary foster. Jenny was diagnosed with hypothroidism and started treatment for that as well as her skin condition. HLH also discovered she was more likely between 6 to10 years old (not 13). She has a mouth full of very healthy teeth. Sadly, at the end of November her original foster couldn't take her back and her temporary foster was moving.
After confirming that her mass had not metastasized, a decision was made to go ahead with surgical removal and Jenny went home with our director to recover. Jenny managed to pull out her stitches twice and ended up staying for almost six weeks. It was an expensive ordeal.
Buy one of a kind bracelets to benefit Hard Luck Hounds
In January, Jenny found her forever foster and she finally had a family. Again, it wasn't meant to be. Jenny's family was splitting up and they were unable to keep her long term. They waited until she found a new home and HLH is grateful. Despite all of the bouncing around Jenny stayed her positive resilient self.
Jenny now lives with several other dogs on four acres east of Tucson, where her new foster mom runs a doggy daycare. She is loving it! She has tons of playmates, room to explore, a soft bed and lots of spoiling filling her days. We hope our girl has lots of happy days ahead and are proud to count her as an HLH pup.
Wow! Look how many ups and down Hard Luck Hounds went through to find a good situation for Jenny and it doesn't sound like she is the exception. Rescue is hard work.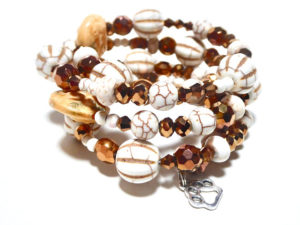 Can you help by buying a bracelet or three? Making a direct donation to Hard Luck Hounds? Sharing this post with your friends and family with the hope that they can help?