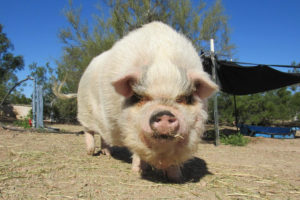 Beading Divas bracelets make great holiday gifts for people who like beautiful one-of-a-kind dazzle and who want to support an amazing porcine sanctuary. Order no later than December 18 to receive by Christmas. Our fulfillment volunteer is standing by…
Ralphie arrived at Ironwood in September 2019.  He was abandoned in his yard after his family moved away.  They also left a dog in the house.  The sheriff's department was called in and the animals were taken to the county animal shelter.  After the required five day holding period, Ralphie was released to Ironwood Pig Sanctuary.  The poor thing was very overweight but had thankfully already been neutered.  He is completely blind most likely due to what is called fat blindness, when the folds of fat cover his eyes for such a long period that the eyes are permanently damaged.  He is approximately 4 years old now.
Because of Ralphie's blindness, he was moved to one of the smaller fields, Assisted Living Phase 5, to live with a herd of 7 pigs.  Despite his lack of vision, he has done well there.  He chose a quiet spot near the back of the field and tends to prefer being on his own which is not uncommon for a pig that was raised as an "only child."  He is fed in an individual pen to control the amount of food he gets as well as giving him the opportunity to eat without being disturbed by anyone.  Ralphie learned quickly where his feed pen is and does a great job of going to wait at his gate when he hears the feeder coming to feed his herd.  He loves getting attention from people and enjoys pets and belly rubs.  What a sweetie!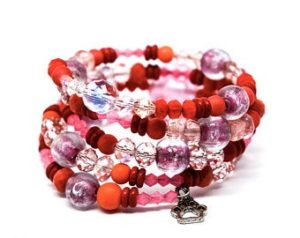 In Tucson you can also buy bracelets at: Fuchsia Spa in La Encantada Shopping Center and Silver Sea Jewelry, in the historic 4th Avenue Shopping District,  is now open on Thursdays by appointment only (call or send a private message via Facebook), Friday and Saturday from noon to 6 pm (face coverings and social distancing required).